Air Hockey Table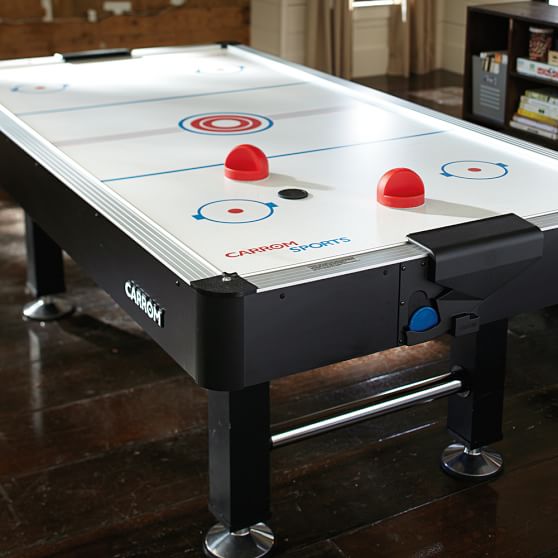 Overview
Family game night was never so much fun! This professional-style air hockey table features colorful graphics, two styles of pucks and a powerful motor to keep matches moving at top speed.
85" wide x 44.5" deep x 33" high
Sides and ends are expertly crafted of hardwood.
Legs are made of heavy vinyl.
Features manual scoring beads, a high-output motor and detailed, multicolored graphics.
Includes two pucks and two hand-held pushers.
Make sure it fits! Use our interactive room planner to design your floor plan.
Dimensions + Care
Dimensions
Overall: 85" wide x 44.5" deep x 33" high
Weight: 225 pounds
Care
Wipe with a soft, dry cloth.
To protect the finish, do not apply abrasives or household cleaners..
Final Sale
Final-sale items, identified by a price ending in $0.99, cannot be returned. Once placed, your order for any final sale items cannot be canceled.
Shipping Info
This item ships directly from our manufacturer. Please allow 2-3 weeks for delivery.
Air Hockey Table
| Item | Price |
| --- | --- |
| Carrom Air Hockey Table | No Longer Available |
Pricing may vary at time of purchase.
Product subject to availability. If you have any questions regarding this item(s), please call
1.866.472.4001
.