Cool Dip Dye Beanbag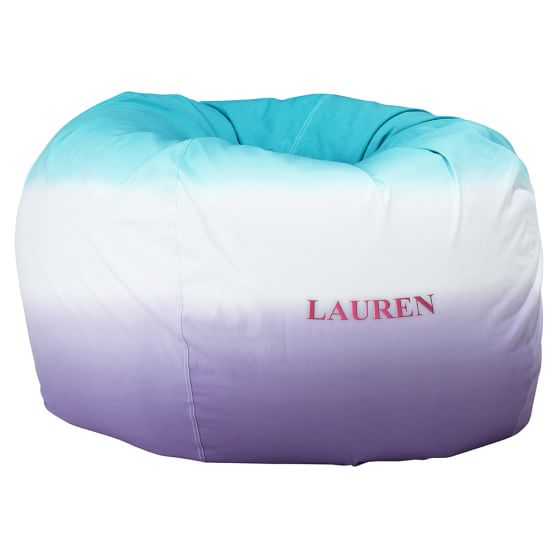 Overview
Dip dyed for color gradation from vibrant cool hues to pure white, this seating has one-of-a-kind style.
Small: 36" diameter
Large: 41" diameter
Plush beanbag insert is eco-friendly and filled with up to 30% recycled polystyrene.
Cotton twill slipcover is prewashed in an enzyme stone wash for extra softness and a faded look.
Machine wash slipcover.
Slipcover and insert are available individually or as a set.
Insert is not intended for use without a slipcover.
Personalization is available for an additional $9.00.
Imported.
Make sure it fits! Use our interactive room planner to design your floor plan.
Dimensions + Care
Dimensions
Small
Overall: 36" diameter
Fill: 7.5 cubic feet
Large
Overall: 41" diameter
Fill: 13.5 cubic feet
Details
Slipcover is made from 100% cotton twill.
Recycled fill may contain a mix of dark and light beads within the insert. This is perfectly normal and safe.
The zipper on the beanbag insert has been sealed to protect the fill and ensure lasting quality.
For best use, insert and slipcover seams should both run vertically; horizontal seams can make the bag appear flat.
Care
Slipcover
To clean, remove insert.
Wash slipcover in cold water by itself, gentle cycle.
Do not use bleach.
Tumble dry on low heat; remove promptly.
Insert
Spot clean with damp white cloth, blot to remove excess water.
Air dry.
Do not wash or dry clean.
Options Available
Slipcover + Beanbag Insert

Slipcover Only
Shipping Info
This item will arrive in 3 to 5 business days if no personalization has been applied and 4 to 6 business days if personalized. A more precise estimate will be shown  on the Payment & Review page of Checkout.
Cool Dip Dye Beanbag
| Item | Price |
| --- | --- |
| Dip Dye Cool Beanbag, Slipcover + Beanbag Insert, Small | No Longer Available |
| Item | Price |
| --- | --- |
| Dip Dye Cool Beanbag, Slipcover Only, Small | No Longer Available |
Pricing may vary at time of purchase.
Product subject to availability. If you have any questions regarding this item(s), please call
1.866.472.4001
.