iChair 2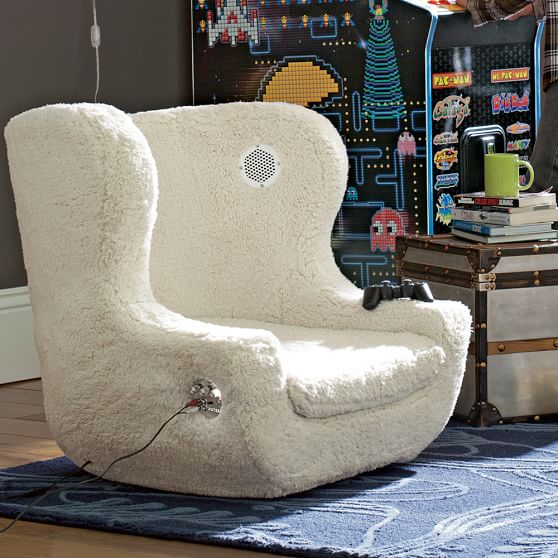 Overview
Kick back, plug in and rock out with our new iChair. It has a standard audio jack that lets you plug in your iPod® or any game system, and also features wireless capability. High-quality 3-inch speakers up top and a subwoofer under the seat provide maximum sound.
34" wide x 29" deep x 30" high
The wood frame slightly rocks and is covered in 100% polyester faux suede or polyester sherpa fleece; includes a weighted base to prevent tipping.
iChair can connect to MP3 players, other audio devices, portable video games and video game consoles; the chair will not charge MP3 players.
High-quality 3-inch speakers up top and a subwoofer under your seat give you maximum sound.
iChair vibrates using an interactive audio system.

A control panel on the right lets you adjust the volume and vibration settings (on/off).

Chair features two speakers each 4 Ohms 10 watts and a subwoofer that is 4 Ohms 15 watts.
Includes a wireless transmitter.
Requires 4 AA batteries (not included).
Imported.
Make sure it fits! Use our interactive room planner to design your floor plan.
Dimensions + Care
Dimensions
Overall: 34" wide x 29" long x 30" high
Seat: 22.5" deep
Maximum Weight Capacity: 200 pounds
Weight: 90 pounds
Care
Spot clean with warm water and mild soap or detergent.
Air dry.
Final Sale
Final-sale items, identified by a price ending in $0.99, cannot be returned. Once placed, your order for any final sale items cannot be canceled.
Shipping Info
This item will arrive in 3-5 business days. Please proceed to the Payment & Review page of Checkout for a precise delivery estimate.
iChair 2
| Item | Price |
| --- | --- |
| iChair, Pale Green Suede | No Longer Available |
Pricing may vary at time of purchase.
Product subject to availability. If you have any questions regarding this item(s), please call
1.866.472.4001
.