Suzani Glove Swivel Chair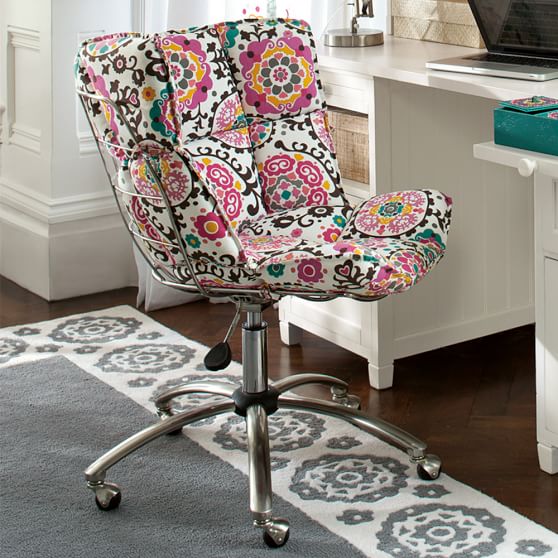 Overview
Make your room bloom with a swivel chair that's as eye-catching as it is comfortable. The wide back and seat envelope you with plush padding, while the swivel action and rolling casters keep your projects on a roll.
27" wide x 26" deep x 31–34.25" high
Brushed-steel base is topped with a soft, stylish seat.
Padded cushion is sewn of 100% cotton and secures to chair using ties.
Cushion is removable and can be dry-cleaned.
Adjustable seat height; rolls on casters.
Dimensions + Care
Dimensions
Overall: 27" wide x 26" deep; adjusts from 31–34.25" high
Seat Area: 17.5" wide x 15.5" deep
Seat Height Above Floor: 18–21.25"
Details
Height adjusts with hydraulic lever.
Care
Dust base with soft, dry cloth.
Spot clean cushioned seat with a clean, dry cloth, or dry-clean.
Final Sale
Final-sale items, identified by a price ending in $0.99, cannot be returned. Once placed, your order for any final sale items cannot be canceled.
Shipping Info
This item will arrive in 3-5 business days. Please proceed to the Payment & Review page of Checkout for a precise delivery estimate.
Suzani Glove Swivel Chair
| Item | Price |
| --- | --- |
| Suzani Warm Glove Swivel Chair | No Longer Available |
| Suzani Cool Glove Swivel Chair | No Longer Available |
Pricing may vary at time of purchase.
Product subject to availability. If you have any questions regarding this item(s), please call
1.866.472.4001
.